The figure stomped off again headed back to his "chair".... Sincentius' smile further grew, if the figure wanted proof... then proof he should have.
Sincentius casually waved his right hand which shot a series of memories coursing through the figure's head!!
Then, with a mesmorizing crackle in his voice, The Dark Sincentius began singing, "Oooooo back down memory lane....."
---
The room faded to black until everything was black.... It was just the figure and Sincentius.
"For fucks sake, who didn't pay for the damn electricity---"
Sincentius only
"Ssssshewed"
with his crackling voice, pulled out a cigarette to smoke and pointed his long boney fingers at an approaching blue light in the distance which instantly grew up to the point that they fall down inside of the sphere and seemingly appeared to exist on planet Earth. They then fall until they emerge in the hospital where the figure is watching behind glass a nursery of children.... The figure's head starts to ache as he glances around at the babies in their cribs and ponders why the fuck he was put here....
"I SAID PROOF.. NOT A DAY CARE!!!! WHERE IS THE PROOF OLD MAN... WHERE IS IT!!! CONVINCE ME I AIN'T WASTING MY TIME"
Sincentius smiled even more, and didn't say a word, only, pointed again but this time at a sad couple of a man and a woman emerging into the room to stare depressingly at their baby behind the glass...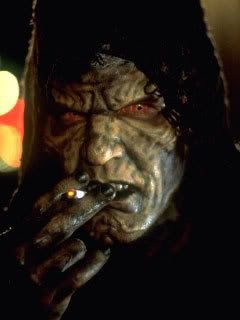 "This is the birth of a new baby boy. Do you see those parents over there, well, why duncha go over there and ask them why they are so soo sad. I am sure they will be happily obliged to tell, the baby's chosen name heh....."